Almost half the Bay Area's residents want to move, survey shows
The Bay Area isn't what it used to be.
At least that's the sentiment most San Francisco residents expressed in a recent Bay Area News Group survey reflecting a growing dissatisfaction with the region that cuts through income, ethnicity and politics.
Just over 1,500 registered voters from Alameda, Contra Costa, Santa Clara, San Mateo and San Francisco counties responded to questions about pressing issues in the Bay Area. More than 7 in 10 respondents cited the high cost of housing and living, traffic congestion and homelessness as the region's top problems.
The survey also revealed that 44 percent of respondents said they are likely to move out of the Bay Area in the next few years, and 6 percent said they have definite plans to leave in 2019. San Francisco residents showed the most displeasure, with 72 percent saying life in the Bay Area has gone downhill in recent years.
Not surprisingly, lower paid workers said they were more likely to leave than higher paid ones. About two-thirds of blue collar workers said they were likely to leave the region, compared to 43 percent for white collar professionals and and 44 percent of service workers.
Pessimism spread across ethnic groups, with black voters most often reporting a drop in the quality of life, and also spread across political parties.
Even homeowners who benefited from the economy were upset — 64 percent of them said things had gotten worse, despite historic gains in property values and personal wealth since 2012.
The poll was conducted from February 14-24 by FM3 Research for the Silicon Valley Leadership Group and Bay Area News Group and has a margin of error of plus or minus 3.1 percent.
Source: San Francisco Business Times. March 26 2019
Big Fremont business park is bought in wake of Tesla, Facebook leases 
FREMONT — A big business park in Fremont's Ardenwood district has been bought for more than $70 million as the East Bay city attracts interest in the wake of major expansions by some tech companies.
The four-building office complex near the corner of Kaiser Drive and Ardenwood Boulevard has been bought by Campus Ardenwood, a San Francisco-based affiliate of RREEF, which is a realty-investment unit of Deutsche Bank.
The RREEF affiliate paid $73.3 million on Feb. 13 for The Campus @ Ardenwood, according to Alameda County public records. JLL, a commercial realty firm, arranged the purchase. JLL didn't respond to requests for information about the transaction.
"The Ardenwood area is absolutely a place for expansion and new investments," said David Buchholz, a senior vice president in the Silicon Valley office of Colliers International, a commercial realty firm.
One of the big draws is the location of Fremont's Ardenwood district near the east end of the Dumbarton Bridge, a link between Fremont and the Peninsula sections of Silicon Valley.
"It makes sense for investors to buy into the Ardenwood area, because the Silicon Valley market is so hot right now," said Dave Sandlin, an executive vice president with Colliers.
Also helping the case for the Fremont Ardenwood district are recent leases by tech giants Facebook and Tesla.
Palo Alto-based Tesla struck a deal in October to lease two big buildings on Dumbarton Circle in Fremont that together total 230,000 square feet. In January, Tesla told this news organization that it will move roughly 1,500 workers to the two-building site starting sometime this spring.
Menlo Park-based Facebook in December leased two large buildings totaling 190,000 square feet. Potentially, 950 Facebook employees could work in the buildings. That expansion would mark Facebook's first major office presence in Fremont. One building is on Paseo Padre Parkway, and the other, which is adjacent, is on Commerce Drive.
The RREEF deal involves the Campus @ Ardenwood development, whose primary tenant is Boehringer Ingelheim, a Germany-based pharmaceutical giant. The office complex totals 323,000 square feet, according to property brochures that were circulated in late 2017.
"Investors follow demand," Buchholz said. "It's a natural that investors will follow leasing velocity, and leasing activity is strong throughout Silicon Valley. RREEF is a great buyer — very savvy, very smart, very patient. They are long-term holders and investors."
In addition, Fremont could gain a spillover of companies that are being pressured out of office space in Santa Clara and San Mateo counties due to swift, ongoing expansions by Google, Apple, Facebook and other tech titans.
"They need more space, and it becomes a reverse commute or a very short commute for companies that locate in Fremont," Sandlin said.
Industry experts believe the commercial real estate boom is far from over, and likened it to a twin-bill in major league baseball.
We're not in the ninth inning of this boom, we are in a double header and haven't even finished the first game yet," Sandlin said. "The boom won't be letting up for a while."
Source: San Jose Mercury News. March 6, 2018
Monarch at Soares Ranch – Coming Spring 2018
Built by DR Horton. Monarch is an enclave of 63 Townhomes thoughtfully designed with you in mind.  Select from Seven traditional three – story townhome layouts ranging from 1,441 to 2,341 square feet, 2-4 bedrooms, 2.5 or 3.5 bathrooms and 2 – car garage. Located  at Alvarado Niles Road & Western Ave. Union City, California 94578.
These East Bay Communities Are Moving Full Speed Ahead On Transit-Oriented Developments
The Bay Area's largest transit-oriented development near a BART station could break ground in 2018. Union City unanimously approved a 443-unit housing project from Windflower Properties in October, according to the East Bay Times. Woodstock Properties also began marketing office space at its approved 1.2M SF office development nearby, the San Francisco Business Times reports.
These projects are part of Union City's 120-acre Station District, which will transform former industrial land into a mixed-use transit-oriented development with 1,300 housing units. This site also was proposed as a secondary site for the Bay Area's Amazon HQ2 bid, which was a partnership with Oakland, San Francisco, Fremont, Richmond and Concord.
Nearby Fremont and San Leandro are adding large transit-oriented residential and commercial developments near their BART stations. Fremont's Warm Springs area near BART has about a dozen projects planned or in the works, including a 110-acre mixed-use development from Lennar.
San Leandro approved earlier in the summer the addition of 197 housing units next to Westlake Urban's 750K SF office development. Construction on the residential portion could begin as early as spring. Westlake Urban also may consider adding a hotel or mixed-use office building in late 2018, according to the East Bay Times.
Woodstock Properties plans to build three buildings with six to eight stories and 57K SF floor plans in Union City. They will range from 350K SF to 450K SF each. The buildings also could be built into life science space. The project, designed by DES Architects, will include 40K SF of amenities, including a fitness center, retail, an amphitheater and gardens, and can accommodate about 5,000 workers. Woodstock Properties also plans to break ground on a nearby fully leased 31K SF project, designed by Ware Malcomb and built by contractor W.L. Butler.
Windflower's second multifamily development at the Union City BART station will be nearly double the size of Union Flats, a 243-unit project it is building with CityView. The new 443-unit project, Windflower 2, will provide 11 lofts, 13 live/work units, 23 studios, 152 junior bedrooms, 32 one-bedroom, 122 one-plus bedroom and 90 two-bedroom units throughout six buildings. One building will be eight stories while the others will be five stories. A parking garage and over 5K SF of retail also will be part of the project. Some of the units will be built using modular pieces. This project is expected to be completed in 2020.
76 condos planned in South Hayward; more than half for seniors
Seventy-six condos, more than half of them for seniors, are set to be built on Mission Boulevard near the South Hayward BART station.The Planning Commission unanimously approved the project Feb. 22. Commissioner Ray Bonilla Jr. was absent.
Reshmal Namdar, one of the owners, said her family invested in the property when her parents were still alive. "They saw a need for senior housing," she said. "My parents have unfortunately passed away, but the need still remains."
The condos at 28000 Mission Blvd. will be in two four-story buildings, with 42 in one for seniors. There will be a plaza between the buildings with an outdoor kitchen and dining tables. The space between the buildings should reduce blocking of views from nearby apartments behind the site, contract planner Richard Patenaude told commissioners.
Joe Felson of Felson Companies, owner of those apartments, said at an earlier meeting he was concerned about views being obstructed, according to the staff report. Felson did not speak at last week's Planning Commission meeting.
The developer, Mission Paradise, opted to pay an in-lieu fee rather than include affordable housing in the project. Because the company submitted its application before Hayward adopted an affordable housing ordinance, it will be allowed to pay half of the new fee. The company will be charged $7.50 per square foot if it pays the fee when the building permit is issued. The amount would go up to $8.25 per square foot if paid when the building is occupied, according to city planning manager Sara Buizer.
"I think it's a good project. I think we need some additional housing in our city," Commissioner Ellen Faria said.
"The one thing I do regret is that with 42 senior units, we don't have any affordable units, and a lot of seniors are on fixed incomes," she said.
The staff report says the condos likely will be purchased by people with higher-than-average disposable incomes and notes they will contribute to the local economy and make the area more attractive for a potential grocery store.
Developers were hesitant to divulge the asking price for the condos, but said possibly in the $400,000 to $500,000 range at today's prices.
During the public comment part of the meeting, Salim Mastan urged commissioners to approve the project, saying there is a shortage of housing for senior citizens.
"A lot of us are getting to that age where it is difficult to drive and go far," he said.
Mastan noted that in addition to the site being near BART, it's also close to a mosque.
The site will have 76 parking spaces, including eight for visitors and four for the disabled, as well as five with electric vehicle charging stations. There will be 28 bicycle spaces and a fitness center, and the buildings will be solar-ready.
Access will be from a two-way, 26-foot-wide private drive between Webster and Hancock streets at the back of the parcel, parallel to Mission. Hancock and Webster will be upgraded with sidewalks, curbs and gutters, and ramps that comply with the Americans With Disabilities Act.
The 1.9-acre site just north of Tennyson Road is made up of three vacant lots.
"I think it's a fine infill project for Hayward," architect Michael Stanton told commissioners. "I look forward, having worked on it for a number of years, to seeing this vacant broken tooth of your Mission Street facade filled in."
The project will advance unless appealed to the City Council.
Source: East Bay Times
Fremont: 17 homes proposed for orchard homestead in Warm Springs
The Fremont City Council on Tuesday will consider approving construction of 17 two-story detached houses on a site in Warm Springs that's the remnant of an orchard homestead.
San Jose-based developer Robson Homes plans to build Spanish- and Mediterranean Revival-style homes ranging from 2,641 to 2,996 square feet on 4,000- to 4,950-square-foot lots on  a 2.65-acre site just west of the Ursa Drive/Plomosa Way intersection.
The parcel is what remains of the original 12.4-acre orchard established by Antone Silva in 1905. According to a staff report, walnuts and apricots once were grown and processed there, similar to many Portuguese-owned and operated orchards that used to be common in the area.
The site contains a single-family home built in 1928 that belonged to the Silvas and has been vacant for five years, as well as a tankhouse, a barn, a processing and mixing shed, some remaining orchard trees and a Canary Island palm tree. It also features a 1,100-foot driveway off Warm Springs Boulevard leading to the property.
The site currently is eligible for "historic listing on both the National and California Registers of Historic Resources as a significant example of a small‐scale, family‐run orchard established in the early twentieth century by Portuguese immigrants in Washington Township," the staff report says.
Under Robson Homes' proposal, however, the site wouldn't qualify for the listing because the Silva home and tankhouse would be relocated to its eastern edge fronting Ursa Drive and renovated. The palm tree would be moved there too.
The barn and other structures would be demolished, and the remaining orchard trees removed.
"As a rural landscape, none of the individual buildings and structures is eligible for the register" on their own, the report says. "The demolition or loss of individual components…would represent a significant impact to the historic integrity of the property. As such, the remaining relocated buildings would no longer be considered historic."
The Silva family and some neighbors said at a Feb. 8 Planning Commission meeting they support the plan and noted that relocating the home would allow it to be seen by more people and recognized for its character.
But at a previous Historic Architectural Review Board meeting, some people said they hope the property will be maintained in its current state as a historic resource.
"This property appears to be one of the last agricultural parcels with a remnant orchard along Warm Springs Boulevard, as residential subdivisions have replaced the orchards that were once located along its length," the report says.
Robson Homes wants to restore the exterior of the Silva home to its original style, remodel the interior and add a 600-square-foot structure to it, as well as a detached garage. The tankhouse — a two-story, tapered tower structure — would be renovated as an office and artist's loft, the report adds.
The Planning Commission previously approved the project by a vote of 4-2, with Commissioners Alice Cavette and Kathryn McDonald opposed. Commissioner Roman Reed was absent.
Cavette said at the meeting that because all 17 of the new houses would have second floors 57 percent to 66 percent the size of the first floors — which exceeds city guidelines for homes built on small lots — she wouldn't support it. McDonald also expressed concern about housing density.
Cavette's proposal to reduce the second-floor sizes of six of the homes to meet guidelines went nowhere after Commissioner Craig Steckler motioned to approve the project as is.
The Fremont City Council meeting is scheduled for 7 p.m. on Tuesday in the Council Chambers at 3300 Capitol Ave., Building A. You can view the agenda packet with the project plans at fremont.gov/AgendaCenter/City-Council-4.
Source: East Bay Times
The supply of homes is expected to increase nationally next year for the first time since 2015 — but not in the Bay Area.
December 3, 2017
Since last November, the number of active listings in the San Jose metropolitan area has declined more than 40 percent, while it has dipped 18 percent in the San Francisco metropolitan area. That's according to realtor.com, which predicted a rebound nationally in its 2018 National Housing Forecast.
The two Bay Area "metro areas differ from the trend that we've observed in other parts of the country," said Danielle Hale, chief economist for realtor.com. Next year is expected to mark "a significant inflection point in the housing shortage" for the nation as a whole, but the Bay Area picture is less rosy.
More than in most parts of the country, potential sellers choose to stay in their homes in the super-expensive Bay Area market.
Real estate agents and other industry observers chalk that up to a variety of factors: Homeowners don't want to pay capital gains penalties, preferring to sit on their equity. Besides, where would they move in a region where numerous counties have median sales prices of more than $1 million for a single-family house? What's left is an unusually tight market where buyers compete and push prices up.
Even so, the new report suggests a moderating Bay Area market, at least when compared to the conditions that existed here a few years back, when double-digit, year-over-year price growth was the norm.
The 2018 forecast from realtor.com shows year-over-year sales up 2.5 percent and prices up 4.37 percent in the San Jose metropolitan area, which includes Santa Clara and San Benito counties. In the San Francisco metropolitan area — which includes San Francisco, San Mateo, Marin, Alameda and Contra Costa counties — realtor.com projects a smaller sales increase of 0.94 percent and price growth of 5.14 percent.
That compares to a 2.5 percent year-over-year increase in national sales of existing homes and 3.2 percent price appreciation in 2018. The report also predicts 7 percent growth in new single-family housing starts across the U.S.
In the Bay Area, new home construction "has shown signs of picking up recently," Hale said. "New construction to help meet strong demand from growing households is a prerequisite for an inventory turn-around in the Bay Area."
The report predicts an average mortgage rate throughout the year of 4.6 percent on 30-year fixed loans, reaching 5.0 percent by year's end. And it notes one "major wildcard" that could wind up jumbling the numbers: the impact of tax reform legislation being debated in Congress.
As for the national inventory, the supply of available homes is expected to shrink in the first few months of the year, but the rate of decline will slow. Finally, the report predicts, year-over-year inventory growth will "tick up into positive territory by fall 2018, for the first time since 2015."
Most of the home supply growth is expected to occur in the mid-to-upper tier price range, which includes U.S. homes priced above $350,000. The supply of starter homes will take longer to bounce back because their levels have been "significantly depleted by first-time buyers," the report said.
Facebook Leases 2 Big Fremont Offices!
December 1, 2017
Facebook has embarked on a major expansion of its Bay Area operations and marked its first foray into Fremont by leasing two big office buildings in Fremont's Ardenwood district with room enough for hundreds of workers.
The tech titan has leased a total of 190,000 square feet in the East Bay city, Alameda County property records and property brochures show. People familiar with the transactions also confirmed  that Facebook has signed leases for the expansion.
The buildings have enough space for the social networking giant to move in around 950 Facebook employees, based on typical ratios of employees and office space.
The Fremont buildings are near the eastern end of the Dumbarton Bridge. Much of the tech company's previously announced expansion on the Peninsula is in Menlo Park, at the western end of the same bridge.
Facebook leased the two buildings from The Sobrato Organization, county files show. One building that Facebook leased totals 100,000 square feet at 6530 Paseo Padre Parkway. The other building totals 90,000 square feet at 6422 Commerce Drive.

Bellaire at Patterson Ranch, Fremont, CA by Brookfield Homes
New Single-Family Homes in Fremont, CA
S.F.Bay Area – Approx. 2,121 – 2,177 Sq. Ft. Up to 5 Bedrooms
Bellaire in Patterson Ranch will be the place to experience the East Bay lifestyle.
Located within the historic Ardenwood area, these new homes in Fremont will give many an excellent start to a fresh new life in the Bay Area.

This new home neighborhood in Fremont will present the kind of family-friendly design that makes you feel at home whether you're just coming to relax or share quality time. Ranging from 2,121 to 2,177 square feet of living space, new homes at Bellaire will offer from four to five bedrooms. Extended families will appreciate the downstairs bedroom and bath arrangements. And the ideal heart-of-the-home kitchen will be enhanced by connection to the great room, dining area and outdoor space. The open design will make living areas convenient for entertaining, and, upstairs, a loft will give extra space for crafts, games or work.
A tranquil neighborhood means these new homes in the Bay Area will offer the best of all worlds. Lush pathways and trails will be found throughout the community, winding through acres of parks and open spaces. And a convenient Silicon Valley location will create a sense of connectivity, providing access to top employers, excellent educationalfacilities, transportation and an abundance of cultural, recreational and entertainment destinations. Let us keep you informed; join our interest list today.
 About the Area
 Patterson Ranch opens the door to East Bay living for people of all ages and life stages. Located in the Ardenwood Historic Farm area of Fremont, Patterson Ranch is creating a fresh approach to classic small-town California living. The emphasis is on green building technologies and water conservation. The idea is to make a sustainable community that is good for the environment and makes people happy to save on energy resources while making homes comfortable and healthful. Located just minutes from I-880, Dumbarton Bridge and the BART station, Patterson Ranch is enhanced by Fremont's long list of parks, from skating to historical. This dynamic city is proactive in the area of sustainability, open data transparency and foresight in planning. Patterson Ranch residents will benefit from Fremont's dynamic vision of the future.
Jasmine at Patterson Ranch, Fremont
Models Open End of February 2016
Offered by Emerald Homes, a D. R. Horton Company, Jasmine is a Built for Better Living® single-family detached home community of luxury homes in master planned Patterson Ranch in Fremont. Situated in a historic area of Fremont dating back to the California Gold Rush, and adjacent to the CoyoteHillsRegionalPark, the Patterson Ranch master plan has much to offer residents. At build-out, Patterson Ranch will offer several parks, hiking and biking trails, and landscape features that will include an urban farm park set on 4-acres at the entrance. This "Urban Farm" will has a holistic integrated edible design. Farm-like architecture will be used for the "Ranch House", a planned community center. Residents will be allowed the opportunity to grow food in the gardens and orchards.
Bay Area home prices grow faster than other U.S. cities
 05/27/2015
Home prices in the San Francisco area grew faster during the past year than prices in any other U.S. city surveyed, according to a report released Tuesday.
The S&P/Case-Shiller Home Price Index shows prices in the census area that includes San Francisco, Alameda, Contra Costa, Marin and San Mateo counties grew by 10.3 percent in March compared to the same time in 2014.
Prices in the area grew faster in March than any other metropolitan area surveyed in the report.Prices were up 3 percent in March in the San Francisco area compared with February. That's after a 2.1 percent gain in February, according to the index.
The monthly values are not adjusted for seasonal affects. Seasonally adjusted data would make the monthly increases 1.7 percent in March and 3.4 percent in February.
Home prices also rose nationally, with both the 10-city and 20-city indexes published by S&P/Case-Schiller showing growth over both the past year and the past month. The only area that did not experience a month-over-month increase in home prices was New York City.
Fremont school district accepts 10-acre donation from Patterson family
5/24/2105:   7 days ago
Fremont Unified School District's Board of Education voted unanimously Wednesday to accept a donation of 10 acres from the Patterson family to create a school in an area that will be heavily affected by future housing, including 500 homes being developed in Patterson Ranch.
The Patterson family has offered to donate 10 acres in the northern part of the district, west of Paseo Padre Parkway and adjacent to Ardenwood Boulevard, near the corner of the two roadways.
"We got approved for 500 homes on 100 acres, so that left roughly 400 acres. Three hundred and eighty acres were donated to the East Bay Regional Park District to expand the Coyote Hills Regional Park, with two 5-acre sites for churches and an 8-acre site for a city park," said Chop Keenan, developer with Keenan Land Co. and friend of the Patterson family.
The family, with members ranging from their 30s to their 80s, are descendants of George Washington Patterson, a gold miner turned farmer, who gave the land to the district in a compromise that allowed 500 homes to be built.
In 1849, George Patterson, an Indiana farmer, came to California to mine gold but found his fortune in farming. He raised hay and cattle initially and branched out into wheat, corn, peas, carrots, chickens, butter, milk, cauliflower and other products.
The family's agricultural holdings once topped 8,000 acres in Fremont, Union City, Newark and Livermore.
Keenan said the family donated the land because of its emphasis on stewardship.
"This is the last land holding that the family collectively owns," he said.
SummerHill planning 720 units near Milpitas BART
May 9, 2015
SummerHill Housing Group is making a play for one of the largest remaining development sites near the under-construction Milpitas BART station in what would be the developer's first-ever project in that city.
The San Ramon-based company, through its SummerHill Apartment Communities arm, is in contract for a 9.8-acre chunk of land bounded by Great Mall Parkway, Center Pointe Drive and Montague Expressway. While plans are still early, SummerHill is considering three buildings with 720 units and 36,000 square feet of retail space, Robert Freed, president and chief executive officer of SummerHill Housing Group, told me in a phone call last week.
The major proposal comes as developers keep humming along in adding more housing product in Milpitas, particularly in the Great Mall district where the Valley Transportation Authority is racing ahead on the new BART extension. A 2008 "transit area specific plan" paved the way for a massive redevelopment of vast swaths of industrial land, and builders and land developers have responded enthusiastically during the current economic cycle.
The arrival of SummerHill is notable because the builder's moves are closely watched in the industry. A Marcus & Millichap company, SummerHill is considered a strong developer and builder that focuses on the region's "core," or the best, markets. Freed has done projects in Milpitas when he was an executive with KB Home, but SummerHill has not previously developed or built there. The project would be SummerHill's largest single development currently in its pipeline.
"Milpitas, in my mind, is a great example of putting density near jobs and transit and services," Freed said. "When you look at the creation of this planning area, the city has done a very good job thinking about where this kind of density belongs, and how to mix housing and retail. Critical to all of this is proximity to jobs."
While BART is a major attraction point for builders, Milpitas also benefits from relatively affordable land prices compared to areas such as Santa Clara and Sunnyvale.
The SummerHill project would average mostly one- and two-bedroom units, with a small number of studios. The buildings would rise up to seven stories at their tallest point. Retail would be integrated along Center Pointe, creating a walkable street with neighborhood-serving amenities off of the busy Great Mall Parkway.
"In terms of programming, amenities, roof-deck concepts and retail concepts, our intent is to do something that will stand up well against the competition," Freed said.
For developers, the danger in Milpitas is oversupply. Freed said he's keeping a close eye on new product coming online, but he believes there's enough demand and rent growth to support additional projects given continued job growth.
"The supply is being produced by very credible competitors," Freed said. "The bar is going to be high. Not just because of the demands of the city, but the market demands."
 Adding to the Milpitas action: Newport Beach-based Lyon Communities just paid $22 million for a five-acre development site at 1315 McCandless Drive that is approved for 371 units. Lennar is expected to close on a 477-unit project at 450 Montague (which is actually being sold by Lyon).
 The biggest remaining project up for grabs is Integral Communities' 26-acre assemblage that includes three separate pieces: 8 acres called "The District" at Great Mall Parkway and McCandless Drive; 12.9 acres called Centre Pointe that runs along Centre Pointe Drive; and 5.3 acres along Houret Drive. Eastdil Secured is marketing the land, which could support up to 2,700 units if fully maxed out.
Massive Lennar development near Tesla plant and BART station wins Fremont City Council's approval
Apr 18, 2015
It's all systems go for Lennar in Fremont after the city council approved plans for a massive project next to the under-construction Warm Springs BART station.
In a 4-1 vote on Tuesday, Fremont gave the developer the green light to move forward with more than 2,200 housing units and 1.4 million square feet of commercial space on the 111-acre site just north of the Tesla Motors Inc. plant. The project will be among the largest master-planned developments in Silicon Valley and is the biggest thing going near any of the new BART stations as the system expands into Santa Clara County.
Officials called the development transformational and the lynchpin of a plan to turn the area into a mixed-use "innovation district," an 879-acre area designed to house a mix of businesses, homes and services.
The outcome is a remarkable change of destiny for what could have been a rail yard. Union Pacific snapped up the land after the shuttering of the old NUMMI plant a couple of years ago. City officials, however, eyed the site for development into a mixed-use jobs and housing hub, and developed a new land-use plan that promoted research and development, manufacturing, shops and housing in an urban context. Union Pacific ended up putting the site up for sale in 2013, and Lennar went into contract. (The Miami-based homebuilder has still not closed on the land.)
"The fact is that we as a city recognized this could be much more than a rail yard, something very creative and innovative, to see what it would do to transform this whole area," said Vice Mayor Suzanne Lee Chan.
Lennar is committing to doing the project in four phases. It would build the backbone infrastructure in Phase 1, going through 2017. Phase 2 would see construction of an affordable rental complex, a K-5 elementary school, a park, urban plazas and some multi-family units. Phase 3 would be additional multi-family units. And Phase 4 would complete the balance of the units. (Lennar is partnering with St. Anton Capital on the affordable project.)
Lennar won't build the commercial component — it will simply provide the utility infrastructure and site preparation — but officials say the investment, at roughly $35 million, makes it much more marketable for either owner-users or developers to come in and build.
Not everyone greeted it with open arms. Councilmember Vinnie Bacon said the fact that Lennar will not build the commercial component — but rather tee it up for someone else to build — will leave the project with a gap.
"The main roadway you're going to see when you get off of BART, for the foreseeable future, is going to be empty, and that really troubles me," he said.
This is just the latest big project for Lennar, whose various arms have been on a buying and development spree across Silicon Valley, with major projects in Foster City, Sunnyvale and San Jose.
Here are some quick tidbits from the city's staff report and master plan:
What gets built? Lennar is splitting the residential component among for-sale, rental and affordable units — 2,214 in all. Lennar would prepare part of the site for industrial, office and R&D use (up to 1.4 million square feet worth), but would not build this itself.
How much is rental and what is for-sale? A staff report says that 1,256 units would be rental, so that means about 960 would be for-sale.
Affordability: About 13 percent of rental units (or 286 units) would be considered "affordable."
How dense is the housing? It depends. About 38 acres of the residential land (located within a half mile of BART) would be at a density of more than 30 units per acre. About 25 acres (located within 1/4 mile of BART) would be built in a mixed-use context at more than 50 units per acre. About four acres are slated for a park, with another five acres dedicated for a school.
What exactly is up with the commercial space? The development plan calls for about 700,000 square feet of Class A office space (with ground-floor retail) located on a street called "Innovation Way," which is envisioned as a key mixed-use urban corridor. Another 700,000 square feet of R&D space would be developed just south of Innovation Way. (It will be interesting to gauge the market's reaction to this much office/R&D capacity — but more on that in another story.)
Phasing: Lennar is committing to doing the project in four phases. The entire backbone infrastructure would take place in Phase 1, going through 2017. Phase 2 would see construction of the affordable rental complex, a K-5 elementary school, a park, urban plazas and some multi-family units. Phase 3 would be additional multi-family units. And Phase 4 would be to complete the balance of the units.
Coming soon: New Homes at Patina in Union City
Coming Soon
in Union City
–
New Homes @ Patina
Patina features include: Two story homes with flexible living spaces; Attached 2-car garages with added storage; 46 homesites with private yards; Half-mile to shops and restaurants on Alvarado Blvd.; 1.5 miles to interstate 880 and bay area transportation corridors; 1 mile to Union Landing shopping, restaurants and multiplex theaters; Within 1 mile of the Union City Sports Center; 2 miles to Coyote Hills Regional Park and hiking; Several east bay regional parks nearby; Less than 1 mile to Eden Landing Ecological Reserve; Near the San Francisco bay with surrounding water activities and marinas
4500 Cabello Street
Union City, CA 94587
Price Is Coming Soon
2,918-3,341 sq.ft. Single Family Homes
3-4 bedrooms | 2.5-3.5 baths
Key Features
Two story homes with flexible living spaces
Attached 2-car garages with added storage
46 homesites with private yards
Half-mile to shops and restaurants on Alvarado Blvd.
Please call 510-541-1124 for further information.
Hayward housing development site sells for 11 times what owner paid
Jan 30, 2015
San Francisco Business Times
Libitzky Property Cos. sold a Hayward residential development site for $23.7 million – more than 11 times the $2.1 million that it paid in 1999 for the property.
Public homebuilder TRI Pointe Homes Inc. was the buyer of the site at 199 Filbert Street, which has entitlements for 157 residential units, including 105 townhouses and 52 single-family homes. Buildable home sizes range from 1,342 square feet to 1,908 square feet, according to the property's offering document.
The sale reflected the strong demand for housing in the East Bay, said Kevin Perkins, associate principal at Emeryville-based Libitzky, which controls around 6 million square feet in industrial property.
"The timing was right. The market was hot," said Perkins. "The builders' sentiment is quite strong. We want to take advantage of the opportunity."
Libitzky spent around $300,000 and took about two years to obtain entitlements that converted the site from industrial usage to residential, said Perkins. The company's plan was to flip the property after obtaining residential zoning. Libitzky was previously in contract to sell the property prior to the recession, but "the escrow fell through because the housing market collapsed," said Perkins.
Building-products maker Owens Corning previously leased a 225,000-square-foot warehouse on the site, but vacated the property in December. Owens Corning paid about $75,000 in rent per month. Libitzky's strategy was to lease to a tenant on the site until it was ready to be sold to a residential developer.
TRI Pointe will likely break ground on the new development in the third quarter of 2015, said Perkins. Pricing hasn't been determined, but homes in the area have sold for around $400,000 to $600,000, he said.
How Chinese Investors are banking on Bay Area Real Estate
San Francisco Business Times
January 28,  2105
Chinese developers and investors have muscled their way into the Bay Area in a big way, most recently with Oceanwide Holdings' $296 million buy of the First and Mission Streets site, which will hold San Francisco's second-tallest office building.
Eleven properties in San Francisco have attracted big dollars from Chinese firms in the last three years, according to Real Capital Analytics, and market watchers know much more is on the way. As a result, Bay Area and Chinese developers are learning to work together for the first time.
For both sides, the learning curve is sometimes steeper than just language or cultural differences.
"Something we always preach is that business done in China is totally different than how real estate is done in the U.S.," said Darlene Chiu Bryant, executive director of China SF, a nonprofit that works with the city's Office of Economic and Workforce Development to promote economic links between the city and China. "If you're new to the system and don't understand how entitlement works, you'll fail. The more sophisticated ones, like China Vanke, will work with a local partner."
Developers from both sides of the world have teamed up for joint ventures on some of the region's most significant developments in recent years.
China Vanke took a 70 percent interest in the condo development Lumina, but is working with New York-based Tishman Speyer to develop the high-end towers. Zarsion came aboard in 2013 as the joint venture partner for the East Bay's Signature Development for the $1.5 billion Brooklyn Basin. TMG is in talks with Oceanwide Holdings to stay on as the local developer on First and Mission, which will hold the second-tallest tower in the city, Chiu Bryant said.
Those Chinese builders, of course, are some of the best in the world at building tall towers and developing complex sites. Vanke, for instance, has $81.8 billion in total assets, according to research by Knight Frank.
But joint ventures are a way to get a foothold into the U.S. market without tripping up on cultural aspects, tax burdens and processes that firms here might take for granted. It also allows Chinese firms to start with a light operational presence in the U.S., as few have opened up large offices, said Jeremy Agraz, development director of Woods Bagot, an architecture and consulting firm increasing its focus on China.
"(Chinese developers) are all capable of doing it by themselves, but they're learning quickly from their competitors that particularly in places like the Bay Area, just getting something through entitlements isn't an easy task," Agraz said. "They need to have a local development partner to grease the skids and help them understand the political winds."
Other Chinese developers have opted to grow U.S. offices with their own local teams. Landsea, which develops residential properties in China, Hong Kong and Germany, announced last year that it would invest $1 billion in the U.S. market. In the Bay Area, it is working on a $90 million residential development in Dublin.
John Ho, managing director of Landsea U.S., joined the Chinese developer after leadership positions in U.S.-based brokerages like JLL. The company also set up a U.S. board of directors in the past year.
"Every company has a different approach to how they see them growing their business, " he said. "Our strategy is not to be the capital partner of anyone. We'd rather be the developer. But we are talking about doing joint ventures with U.S. domestic developers."
Chinese investors have set their sights toward the western world mostly because their own residential market has cooled significantly, according to a report by Knight Frank. As a result, the value of Chinese investments in U.S. real estate grew from $600 million in 2009 to $12 billion in 2013.
San Francisco attracted $807 million worth of Chinese capital over the last three years, though numbers are difficult to track because some money is filtered in through other private equity firms, according to Real Capital Analytics. That's the fourth-most of any U.S. market, behind New York, Chicago and Los Angeles, but there's plenty of room to grow.
"Every (U.S. developer) is trying to do a China deal, but there's only a handful of people who have been successful in a sustainable business model," said Skip Whitney, executive vice president at Kidder Mathews who advises Chinese clients on U.S real estate acquisitions.
At the same time, Chinese developers have to "compete with domestic investors and their dollars. The domestic sellers are more comfortable doing business with domestic buyers than Chinese investors because they understand who the buyer is."
The developers that have done big deals with Chinese firms, however, say that business really isn't much different. Greg Flynn, chairman and CEO of Flynn Holdings, is working with the Chinese developer Kylli Inc. to run the office building 225 Bush St. in San Francisco. He said while communicating with his partners can be "challenging and amusing," the arrangement has been working smoothly.
"These guys really build things to last a thousand years," he said. "They're bolder in their architecture and willing to spend for interesting architecture."
The U.S. firms that can make those kinds of relationships work have succeeded in finding those Chinese partners. Rob Speyer, who runs New York-based Tishman Speyer, told the Wall Street Journal in 2013 that he struck a deal with the China Vanke chairman after the two "bonded" over breakfast at Rockefeller Center.
Michael Ghielmetti, president of Signature Development Group, said he linked up with Zarsion from a connection with former Oakland Mayor Jean Quan. As a joint venture partner, "they're not functioning any differently than our American investors," Ghielmetti said. "Chinese capital is no different than anyone else. They're looking for better risk-adjusted return."
The big difference, he said, is that "they're very relationship-oriented in China rather than deal-by-deal or quarter-by-quarter, which is very refreshing for us."
November home sales are down but demand is not.
A booming economy has minted crowds of would-be homebuyers, drawn by low interest rates and pushed by rising rents, but the latest home sales report shows they're stuck once again in a competitive market marked by bidding wars and all-cash buyers, pushing prices ever higher.
And while price increases took a bit of a breather during the late fall and early winter, there's little sign the hot market that's causing such pain for buyers will end any time soon.
"Around here, there's a bazillion buyers, and there's nothing to buy," said Colleen Larkin of Thornwall Properties in Berkeley. "I don't think it's going to end. The spring is going to be the same."
Larkin just helped a buyer snag a Victorian with lots of curb appeal in lower Berkeley. The home drew 21 offers, she said.
For homeowners who wanted to sell, it was a great year.
Prices reached all-time highs in San Mateo County in October and Santa Clara County in June, and came within 4.4 percent of an all-time high in Alameda County. Contra Costa County was still 35 percent below its pre-crash peak.
In November, the median price buyers paid for a single-family home in Alameda County was $640,000, up about 12 percent from last year, according to a report Tuesday by real estate information service CoreLogic DataQuick. Contra Costa County buyers paid a median price of $425,000, up only 3.2 percent from a year ago; Santa Clara County saw prices rise 8.1 percent to $800,000, while San Mateo County was up 14 percent to $900,000.
Sales last month were at their lowest level for a November since 2007-08 in the East Bay and South Bay, according to the report. They were down more than normal partly because there were fewer days to record sales — only 17 opposed to a more typical 19 days, the Irvine-based company said.
But sales also were depressed by low inventory, hard-to-get loans and prices beyond the reach of many buyers, according to Andrew LePage of CoreLogic DataQuick.
LePage said he expects demand to continue to increase on strong job and income growth across the Bay Area. "There are also still a lot of people who became renters not because they wanted to, but because they lost their home through a short sale or foreclosure. They'll be trying to return to homeownership," LePage said.
Renters Juan Hernandez and Erika Luna of Union City were drawn to buy more by low interest rates than high rents. With a large down payment, they were able to come up with a mortgage payment on their new Union City home that was about the same as their previous rent.
"We have been wanting to buy and saving up for a larger down payment," Hernandez said. "The lower interest rates kind of motivated us. We got 3.75 percent for a 30-year mortgage."
The couple lost out to higher bidders on two homes before they bought. "It's pretty competitive out there," Hernandez said.
Elsewhere, the pressure has eased a bit.
Their agent, Steve Dhillon of Realty Experts in Fremont, said he doesn't see as many multiple offers now as he did earlier this year in the Fremont-Union City area. Dhillon thinks a "hyper-seller's market" has had an 18-month run and is still very strong.
Some agents say the market has gained a head of steam late in the year as buyers continue trying to snag a home before interest rates rise as they are predicted to next year.
"It's spring in the middle of December," said Kevin Keiffer of Keller Williams in Danville. "Everything we're listing is getting multiple offers again. Buyers never went away, they just took a break. That tells me that spring is going to be hot."
On the Peninsula, "people are paying more and settling for less because they just want to be in the market," said Jennifer Flores Tasto of Property Services in Burlingame. High rents are driving some couples into the market, she said, and some are armed with cash from parents.
"Boomers are helping out kids, and people understand you have to be ready and competitive," she said
Ground under San Jose Home Depot sells for potential record pric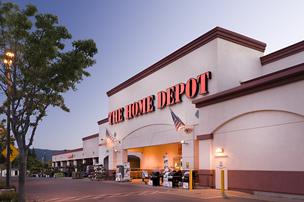 This San Jose Home Depot sold for what could be a record in the world of Home Depot property transactions.
Silicon Valley Business Journal
An 11.7-acre San Jose parcel with a Home Depot store on it has sold to an investor for $15.58 million, in another example of just how much appetite is out there for net-lease investments in Silicon Valley.
The property at 635 W. Capitol Expressway traded at a first-year initial yield, or cap rate, of 3.77 percent, financial services firm Marcus & Millichap said.
A lower cap rate, or return on investment, indicates a higher asset valuation, as the buyer is willing to accept less income from the property. M&M says the deal is a record for a Home Depot transaction. The buyer was a Bay Area family trust, according to public records.
According to Cassidy Turley's 2013 net-lease report, average cap rates nationwide for mega-box properties (those over 80,000 square feet) that closed in 2013 were 7.5 percent, though local brokers say the averages for well-located properties in the Valley is often much lower.
In March, I wrote about the net-lease landscape in Silicon Valley (which you can read here). Basically, there are always more buyers than sellers for net-lease investments. These days there are more than ever, given that returns on many savings instruments such as U.S. Treasury securities are very low.
Mike James, with Marcus & Millichap's Encino, Calif., office, handled the sale for the seller, an institutional investor. He said the property saw more than 22 "best and final" offers, more than half of them from multifamily investors looking to "exchange" into the property. Net-lease investments are popularly used in 1031 tax-fee exchanges, a section of the tax code that allows investors to roll over capital gains taxes into similar investments. The San Jose transaction was for the ground under the Home Depot, which is long-term leased to the retail juggernaut.
"Situated in the heart of Silicon Valley, this Home Depot is a trophy triple-net-leased asset," James said. "The investment has more than 20 years remaining on the initial lease term and provides significant inflation protection with 10 percent rental increases every five years."
The 122,265-square-foot Home Depot was constructed in 1997 and is located near the high-volume intersection of Highway 87 and West Capitol Expressway.
Patterson Ranch – Coming soon
KB Home Acquires 500 Lots at Patterson Ranch in Fremont
Fremont, nr Ardenwood, CA
•Master-planned community
•Three proposed community parks, which will include an orchard, water features and sports courts
•Great commuter location
•Stunning architecture
•Opening Spring 2015 
One of Bay Area's leading builders to offer single-family homes in last phase of development at historic ranch with convenient access to San Jose, East Bay and Peninsula
One of the nation's largest and most recognized homebuilders, today announced plans for a new home community in the city of Fremont called Patterson Ranch. KB Home will offer approximately 500 new single-family homes on the property, which will also include 15 acres of parks and open space, a community center, and an urban farm that reflects the site's agrarian history. Land development has commenced at the fully-entitled property, with model homes expected to open by the spring of 2015.
"We continue to be very aggressive with our targeted land acquisition strategy in the San Francisco Bay Area, and are particularly interested in parcels situated in and around the Silicon Valley. We are excited to be developing a property of this size that is already entitled, a rare combination in today's inventory-constrained Bay Area market," said Chris Apostolopoulos, president and regional general manager for KB Home Northern California. "Strong initial interest in our plans for Patterson Ranch speaks to the overwhelming demand in Fremont for new homes located near the Valley's major employment centers."
KB Home plans to offer six one- and two-story floor plans at Patterson Ranch, ranging in size between 1,700 and 3,300 square feet and featuring up to five bedrooms and three-and-a-half baths. Lot sizes at Patterson Ranch are expected to range from 3,300 to 5,400 square feet.
In keeping with its agrarian heritage, KB Home's Patterson Ranch community will feature more than 15 acres of parks and open space highlighted by an urban farm consisting of a communal garden and working orchard. Additional amenities will include parks, a community center, BBQs, picnic areas, basketball and tennis courts, plus walking paths. Homeowners with a green thumb will be able to take advantage of a barn planned for the urban farm that will have tools to use to cultivate vegetables, herbs and native plants, as well as the apple, almond, peach and fig trees in the orchard.
Homebuyers at Patterson Ranch will be able to personalize their new KB homes to their own unique needs and lifestyle. In addition to selecting their specific lot location, floor plan and structural options, KB homebuyers will work one-on-one with an expert design consultant at the KB Home Studio, who will walk them through the various décor, technology, and sustainability-focused components that are included or can be incorporated in a KB home.
All KB homes at Patterson Ranch will be ENERGY STAR® certified, GreenPoint Rated, and built with an array of water-conserving features such as WaterSense® labeled faucets and fixtures as well as a Wiser home management system that allows homeowners to monitor and control their home's energy usage in real-time with a smartphone or tablet. These features should enable homeowners at Patterson Ranch to experience significant savings on their utility bills compared to similar resale homes in the area.
Please email us or call 1-800-317-1880 for further updates.
Urban Areas Lead in Home Prices; Suburbs Grow Faster
Posted By Scott Morgan In Daily Dose,Featured,Headlines,Market Studies,News
As the housing market inches further toward recovery, a curious dichotomy has arisen between urban and suburban growth. According to Jed Kolko, chief economist at Trulia, while cities are outpacing the suburbs in price gains, the suburbs are leading the way in population growth.
According to Kolko, citing Trulia's joint Price Monitor and Rent Monitor reports, released Wednesday, asking prices for homes in densely populated (i.e., high-rise-rich) and urban settings are still rising as the spring buying market catches its stride. Asking prices typically lead actual sale prices by about two months, meaning today's asking prices should be a good indicator of what typical sale prices will be as housing enters the summer.
Trulia found that month-to-month asking prices nationally in urban markets rose 1.2 percent in March. Quarter-to-quarter, prices rose 2.9 percent in March, reflecting three straight months of solid month-over-month gains. Both calculations were seasonally adjusted.
More encouraging is that asking prices are up a full 10 percent since last year, rising in 97 of the 100 largest metros. Only three metro areas—Albany, New York; and Hartford and New Haven, Connecticut, showed a drop in asking prices year-over-year.
It's the suburbs, however, where population is growing most—something Kolko admits can seem rather strange. After all, he says, "locations with stronger demand should have both higher price growth and more population growth." And there has been greater demand for urban living since the construction bubble burst in 2009 and badly damaged new home construction in suburban areas. The answer, however, lies in the supply.
"Suburbs can have faster household growth but smaller price gains because it's easier to build new housing in suburbs than in dense urban neighborhoods," Kolko said. "New construction accommodates population growth while taking pressure off rising prices."
It only seems as if cities have the edge in housing recovery, he said, because home prices in high-density high-rise neighborhoods in cities such as New York, Chicago, and San Francisco have risen faster than those for other urban and suburban areas.
It also appears to have the lead because construction recovery has been disproportionately urban. In 2013, apartment building construction hit a 15-year high, but single-family home construction is still considerably below normal levels. That means many dense cities where much of the housing stock is comprised of rental apartments have seen a construction boom relative to their local normal level of construction, Kolko said.
"Population growth since the housing bust has slowed most in the bottom quartile of counties, which are largely rural areas, not suburbs," Kolko said. "The suburbs are far from over."
Bay Area Home Sales Ease Back; Median Sale Price Edges Higher
November 13, 2013
The Bay Area housing market continued its fits-and-starts march toward normalcy last month with ho-hum sales counts and continued price appreciation. Various below-the-surface technical indicators show a market still transitioning from a severely atypical state a few years ago to something more in line with long-term norms, a real estate information service reported.
A total of 7,595 new and resale houses and condos sold in the nine-county Bay Area in October. That was up 6.4 percent from 7,141 the month before, and down 3.9 percent from 7,902 for October a year ago, according to San Diego-based DataQuick.
Last month's number was 11.2 percent below the October average of 8,553 since 1988, when DataQuick's statistics begin. Bay Area sales haven't been above average for any particular month in more than seven years. The most active October was in 2003 when 13,392 homes sold; the least active was in 2007 with 5,486 sales.
The median price paid for a home in the Bay Area last month was $539,750. That was up 1.8 percent from $530,000 in September, and up 29.7 percent from $416,000 in October 2012.
It appears that roughly three-fourths of last month's 29.7 percent year-over-year rise is the result of an increase in home values. The rest reflects a change in market mix – more mid- to high-end sales and fewer low-cost inland distressed sales.
The peak Bay Area median so far this year was $562,000 in July – the highest for any month since the median was $587,500 in December 2007. The Bay Area's all-time peak median was $665,000 in June and July 2007, after which it dropped to a low of $290,000 in March 2009.
"At different times in recent years we've had various peaks or troughs when it comes to sales volume, prices, foreclosure activity, cash sales, absentee-owner sales, various home loan options, you name it. All of these market components are now trending toward normal. We are still a ways away, but the market is slowly re-establishing equilibrium," said John Walsh, DataQuick president.
"A lot of market drag can be attributed to skittish market participants, especially buyers and lenders. Comfort levels do rise with more stability and predictability – factors that could contribute to increased activity well into next year and beyond," he said.
The number of homes sold for less than $500,000 dropped 26.4 percent year-over-year, while the number sold for more increased 15.9 percent, DataQuick reported.
Last month distressed property sales – the combination of foreclosure resales and "short sales" – made up about 14 percent of the resale market. That was about the same as in September and down from about 35 percent a year ago.
Foreclosure resales – homes that had been foreclosed on in the prior 12 months – accounted for 3.6 percent of resales in October, the same as the month before, and down from 11.7 percent a year ago. Last month's level is the lowest since 3.5 percent in June 2007. Foreclosure resales peaked at 52.0 percent in February 2009, while the monthly average over the past 17 years is 10 percent.
Short sales – transactions where the sale price fell short of what was owed on the property – made up an estimated 10.3 percent of Bay Area resales last month. That was up from an estimated 10.2 percent in September and down from 22.9 percent a year earlier.
In October, Bay Area home buyers put $2.1 billion of their own money on the table in the form of a down payment or as an outright cash purchase. That number hit an all-time high of $2.6 billion in May. They borrowed $3.0 billion in mortgage money from lenders last month.
The most active lenders to Bay Area home buyers last month were Wells Fargo with 14.8 percent of the purchase loan market, RPM Mortgage with 3.8 percent and Stearns Lending with 3.6 percent.
Jumbo loans, mortgages above the old conforming limit of $417,000, accounted for 46.7 percent of last month's purchase lending, roughly even with a revised 46.8 percent in September, and up from 39.5 percent a year ago. Jumbo usage dropped as low as 17.1 percent in January 2009.
Adjustable-rate mortgages (ARMs), an important indicator of mortgage availability, accounted for 20.5 percent of the Bay Area's home purchase loans in October. That was the highest since 20.7 percent in August 2008. It was up from a revised 20.2 percent in September, and up from 11.8 percent in October last year. Since 2000, ARMs have accounted for 47.5 percent of all purchase loans. ARMs hit a low of 3.0 percent of loans in January 2009.
Government-insured FHA home purchase loans, a popular choice among first-time buyers, accounted for 11.0 percent of all Bay Area home purchase mortgages in October, up from a 10.5 percent in September and down from 15.8 percent a year earlier.
Last month absentee buyers – mostly investors – purchased 21.8 percent of all Bay Area homes. That was up from 20.8 percent in September, and down from 23.7 percent a year ago. Absentee buyers paid a median $420,000 in October, up 28.6 percent from a year earlier.
Buyers who appear to have paid all cash – meaning no sign of a corresponding purchase loan was found in the public record – accounted for 22.8 percent of sales in October. That was down from 23.0 percent the month before and down from 29.6 percent a year earlier. The monthly average going back to 1988 is 13.3 percent. Cash buyers paid a median $439,500 in October, up 33.2 percent from a year earlier.
San Diego-based DataQuick monitors real estate activity nationwide and provides information to consumers, educational institutions, public agencies, lending institutions, title companies and industry analysts. Because of late data availability, sales were estimated in Alameda, San Francisco and San Mateo counties.
The typical monthly mortgage payment that Bay Area buyers committed themselves to paying last month was $2,109. Adjusted for inflation, last month's payment was 26.1 percent below the typical payment in spring 1989, the peak of the prior real estate cycle. It was 45.4 percent below the current cycle's peak in July 2007. It was 67.3 percent above the February 2012 bottom of the current cycle.
Indicators of market distress continue to decline. Foreclosure activity remains well below year-ago and far below peak levels. Financing with multiple mortgages is very low, and down payment sizes are stable, DataQuick reported.
Sales Volume
Median Price
All homes
Oct-12
Oct-13
 % Chng
Oct-12
Oct-13
 % Chng
Alameda
    1,717
     1,539
   -10.4%
    $384,000
    $525,000
     36.7%
Contra Costa
    1,454
     1,397
    -3.9%
    $302,500
    $395,000
     30.6%
Marin
      335
       306
    -8.7%
    $660,000
    $805,500
     22.0%
Napa
      152
       135
   -11.2%
    $365,000
    $439,500
     20.4%
Santa Clara
    1,718
     1,808
     5.2%
    $535,000
    $650,000
     21.5%
San Francisco
      562
       583
     3.7%
    $794,500
    $845,000
      6.4%
San Mateo
      735
       695
    -5.4%
    $626,500
    $690,000
     10.1%
Solano
      598
       583
    -2.5%
    $216,000
    $266,000
     23.1%
Sonoma
      631
       549
   -13.0%
    $350,000
    $425,000
     21.4%
Bay Area
    7,902
     7,595
    -3.9%
    $416,000
    $539,750
     29.7%
Bay Area Home Sale Activity
for the month of October 2013
Reporting resale single family residences and condos as well as new homes
* % Change is from last year
| | | | | | | | | |
| --- | --- | --- | --- | --- | --- | --- | --- | --- |
| Community | Zip | Sales | % Chg | Median Price | % Chg | High Price | $/SqFt | % Chg |
| Alameda County | | | | | | | | |
| Alameda | 94501 | 45 | 2.3% | $625,000 | 11.3% | $1,316,500 | $423 | 4.9% |
| Alameda | 94502 | 15 | -11.8% | $525,000 | -7.1% | $1,100,000 | $435 | 19.1% |
| Albany | 94706 | 14 | -12.5% | $572,500 | 0.7% | $832,500 | $567 | 16.2% |
| Berkeley | 94702 | 19 | -5.0% | $532,000 | 19.3% | $810,000 | $519 | 35.1% |
| Berkeley | 94703 | 5 | -61.5% | $619,000 | 9.6% | $775,000 | $459 | -14.7% |
| Berkeley | 94704 | 6 | 100.0% | $831,000 | 7.9% | $1,510,000 | $457 | 10.0% |
| Berkeley | 94705 | 10 | -28.6% | $975,000 | 18.0% | $2,500,000 | $577 | 53.1% |
| Berkeley | 94707 | 14 | 75.0% | $947,500 | 5.7% | $1,450,000 | $574 | 13.1% |
| Berkeley | 94708 | 15 | 7.1% | $914,000 | 14.3% | $2,300,000 | $570 | 27.7% |
| Berkeley | 94709 | 5 | 25.0% | $785,000 | -2.6% | $1,320,000 | $510 | -16.4% |
| Berkeley | 94710 | 5 | 150.0% | $600,000 | -9.2% | $620,000 | $541 | 0.9% |
| Castro Valley | 94546 | 53 | -3.6% | $500,000 | 23.5% | $875,000 | $339 | 36.1% |
| Castro Valley | 94552 | 21 | 16.7% | $710,000 | 29.1% | $868,000 | $365 | 22.7% |
| Dublin | 94568 | 112 | 0.0% | $715,000 | 9.4% | $1,459,000 | $337 | 16.6% |
| Emeryville | 94608 | 48 | 9.1% | $375,000 | 61.6% | $682,500 | $373 | 77.7% |
| Fremont | 94536 | 75 | 8.7% | $583,000 | 40.5% | $1,200,000 | $399 | 16.3% |
| Fremont | 94538 | 57 | 1.8% | $547,500 | 40.6% | $885,000 | $422 | 26.6% |
| Fremont | 94539 | 54 | -25.0% | $859,000 | 8.1% | $1,800,000 | $535 | 17.5% |
| Fremont | 94555 | 56 | 51.4% | $630,000 | 22.1% | $900,000 | $415 | 18.5% |
| Hayward | 94541 | 59 | -24.4% | $366,000 | 19.2% | $689,000 | $306 | 51.5% |
| Hayward | 94542 | 20 | 53.8% | $675,000 | 40.6% | $1,430,000 | $271 | 40.0% |
| Hayward | 94544 | 65 | -5.8% | $372,500 | 48.1% | $880,000 | $300 | 38.2% |
| Hayward | 94545 | 23 | -37.8% | $367,500 | 18.5% | $810,000 | $279 | 29.6% |
| Livermore | 94550 | 59 | -1.7% | $595,000 | 42.1% | $1,395,000 | $364 | 38.9% |
| Livermore | 94551 | 80 | 21.2% | $471,750 | 11.8% | $1,187,500 | $328 | 30.3% |
| Newark | 94560 | 45 | -8.2% | $450,000 | 28.6% | $865,000 | $337 | 25.2% |
| Oakland | 94601 | 19 | -58.7% | $280,000 | 60.5% | $600,000 | $238 | 48.0% |
| Oakland | 94602 | 38 | 0.0% | $638,000 | 23.8% | $1,350,000 | $403 | 1.6% |
| Oakland | 94603 | 16 | -50.0% | $256,000 | 115.1% | $439,000 | $215 | 86.7% |
| Oakland | 94605 | 75 | 2.7% | $295,500 | 17.0% | $832,000 | $217 | 27.5% |
| Oakland | 94606 | 13 | -35.0% | $305,000 | -3.2% | $720,000 | $317 | 115.4% |
| Oakland | 94607 | 19 | -53.7% | $410,000 | 28.1% | $780,000 | $304 | 58.2% |
| Oakland | 94609 | 14 | 0.0% | $637,500 | 141.0% | $1,075,000 | $476 | 74.1% |
| Oakland | 94610 | 33 | 50.0% | $520,000 | -27.4% | $1,060,000 | $402 | -14.5% |
| Oakland | 94612 | 8 | -27.3% | $380,250 | -9.5% | $479,000 | n/a | n/a |
| Oakland | 94618 | 23 | 43.8% | $955,000 | 19.4% | $1,805,000 | $465 | -8.8% |
| Oakland | 94619 | 33 | -5.7% | $430,000 | 34.4% | $1,600,000 | $347 | 39.2% |
| Oakland | 94621 | 18 | -5.3% | $160,500 | 18.9% | $244,000 | $136 | 14.8% |
| Piedmont | 94611 | 43 | -18.9% | $765,000 | 4.1% | $4,900,000 | $440 | 8.4% |
| Pleasanton | 94566 | 55 | 12.2% | $868,000 | 12.7% | $1,800,000 | $398 | 11.5% |
| Pleasanton | 94588 | 33 | -15.4% | $715,000 | 32.4% | $2,685,000 | $418 | 19.6% |
| San Leandro | 94577 | 48 | 17.1% | $407,000 | 21.5% | $735,000 | $320 | 27.9% |
| San Leandro | 94578 | 22 | -38.9% | $339,000 | 34.3% | $650,000 | $295 | 30.2% |
| San Leandro | 94579 | 15 | -21.1% | $406,000 | 19.5% | $690,000 | $336 | 46.4% |
| San Lorenzo | 94580 | 28 | -20.0% | $394,500 | 31.5% | $475,000 | $325 | 37.1% |
| Union City | 94587 | 49 | -33.8% | $505,000 | 43.1% | $1,175,500 | $317 | 16.0% |
Bay Area median home price tops $500,000 for first time in 5 years
May 16, 2013
Bay Area median home price tops $500,000 for first time in 5 years
In a new milestone for the Bay Area's recovering housing market, the median price paid for all types of dwellings in April crossed $500,000 for the first time in nearly five years, according to a report released Wednesday.
The $510,000 median is helping to trim the number of underwater homes in the nine-county Bay Area, giving homeowners who were underwater just months ago the chance to sell their house at a profit.
In the market for existing single-family homes alone, prices were up double digits over the year, with Contra Costa County's median sales price leaping to $412,000, a 38.8 percent gain from April 2012. San Diego-based real estate information company DataQuick said that is the highest annual percentage gain for the county since the company began keeping records in 1988.
Santa Clara County's median sales price for existing single-family homes was $720,000 in April, DataQuick reported, a 21 percent increase from April 2012; Alameda County's was $510,000, a 36 percent increase; and San Mateo County's median sales price of $805,000 was up nearly 27 percent from the previous April.
The $510,000 median for all homes also includes condos and townhouses.
The price increases have some underwater homeowners thinking of possibly breaking even or making money on a sale in the near future. And some short sales — where homes are sold for less than what is owed — already have turned into equity sales.
Median sales price of homes up across bay area
The median sales price for all types of homes — condos, townhomes and single family detached — was up sharply across the nine-county Bay Area in April.
Alameda $448,250, up 33.8 percent
Contra Costa $397,500, up 37.7 percent
Marin $799,000, up 29.3 percent
Napa $385,000, up 21.3 percent
Santa Clara $645,000, up 25.6 percent
San Francisco $815,000, up 16.4 percent
San Mateo $726,000, up 32 percent
Solano $238,000, up 36 percent
Sonoma $376,000, up 23.5 percent
Bay Area $510,000, up 30.8 percent
Short Sale Debt Relief Extended Through 2013
Rest easy if you're trying to short sell your house – you won't face a massive tax bill as a result if you complete the sale in 2013.
As part of the fiscal cliff deal, the Mortgage Debt Forgiveness Act of 2007 has been extended for one more year. Under normal circumstances, debt forgiven as a result of a short sale or mortgage modification would count as income for tax purposes. For instance, if somebody owes $500,000 on their mortgage and their lenders agrees to a $400,000 short sale, $100,000 in debt is forgiven. This would have been taxable without an extension of the law